Last week's post on "GyroParser-let GyroQ read your mind" demonstrated an initial proof of concept of a GyroQ tag for parsing the text of an action item to try to infer the destination map for it, its due date, its context, and the relationships (e.g. waiting for, owed to, contact about) associated with it. With the new "q" tag in the GyroQ Tag Library, the approach has been made user-configurable; replacing the hard-coded parsing rules with a set of four maps that allow you to customize the language (e.g. "próxima semana" instead of "next week") and rules used. The keyword map used to determine the destination map is also utilized by the new "o" tag for "opening maps, documents, web pages, and applications" using GyroQ
The library also contains a "c" (parse current topics) tag that can be used to marking up one or more selected topics in a map into action items (see example below) rather than text coming into GyroQ.
Before applying "c" tag to topics: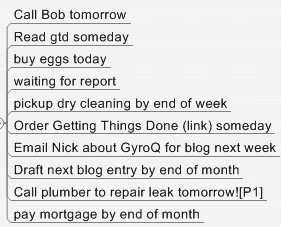 After: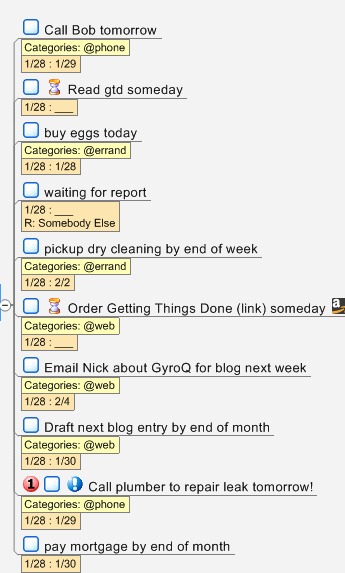 More information and instructions on the tags and the configuration files can be found on the "MindReader" project page. Your best bet is to follow the instructions in the "Read-Me-First" installation "project map":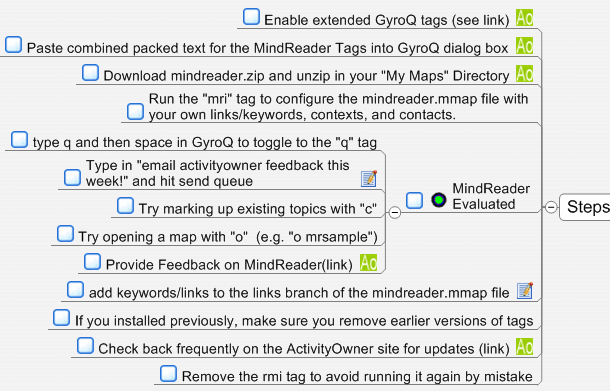 A big thanks to Curtis B. and Jim H. who tried out some early iterations of the tag.