As I mentioned in my last post on Declaring GTD Bankruptcy, I recently decided to switch my personal GTD system to make better use of my new Ipad 2.
Why Switch?
Besides the value of having to reconsider all my priorities in the migration process, the main driver was to get away from my home desk a bit more. I spend a lot of time at my office keyboard and was spending a correspondingly high amount at my home desk for a variety of things. The Ipad can get you away from your desk for many activities where you are just consuming information (reading/deleting mail, news, searching) and reduce desk time to more focus on creating things and keyboard-intensive activities.
Using the information and tools on the ActivityOwner.com site you can do quite a bit to synchronize information back and forth between your MindManager maps and mobile-accessible formats (e.g. dropbox), but that can be a bit clunky and it introduces a delay between when you add or complete something and when you next refresh your dashboards. I continue to use ResultsManager at work, although to be honest I spend most of my time just taming my inbox with OutLinker.
Why OmniFocus
I tried a few web-based tools including Remember the Milk and Nozbe but they didn't resonate for some reason. Nozbe's reoccuring cost is reasonable but a bit of a deterrent. I initially stayed away from OmniFocus for Ipad since its is an Apple application and has no Windows counterpart, but the reviews and functionality looked good. At $39.95 it is not cheap for an Ipad App, but I figure you get what you pay for so I took the plunge.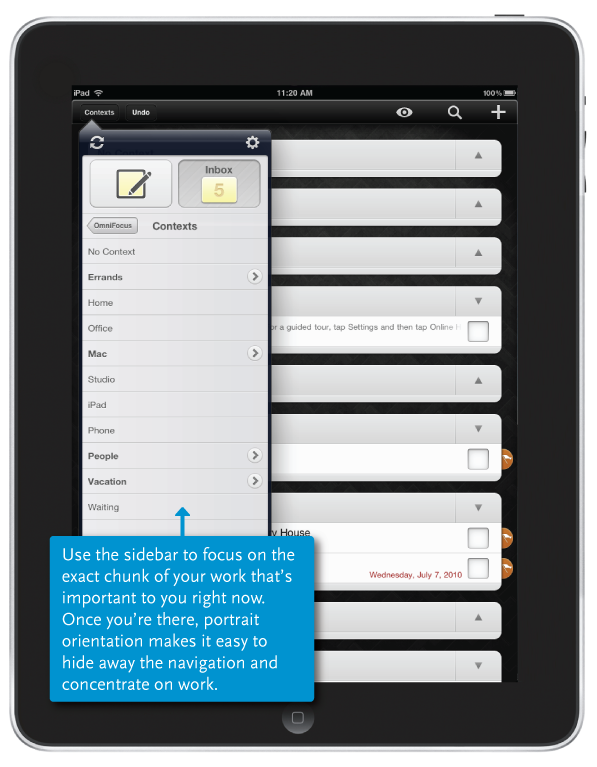 The Pros
OmniFocus for Ipad has been on the market for awhile and there are many reviews of it available, so I'll just enumerate the things that jumped out at me as a long-time ResultsManager user and GTD add-in developer:
It is great to be able to capture/process/plan/review/do on the move away from my PC as time permits. The quiet Sunday morning "Weekly Review" is a nice concept, but doesn't always materialize.
OmniFocus organizes itself in realtime. There is no dashboard refresh step between when you change something and when it shows up in your lists.
OmniFocus tracks your "Weekly Review" on a project by project basis. By default, each project puts itself up on the "Review" list on weekly basis, but you can change this default to any frequency you wish. This is a nice way to ensure your "Someday" items get a once over at some frequency and that you continue to have the right next steps for your active projects. This means you can do a partial review of your projects and pick up where you left off when you next have time. This concept could be a nice addition to the Next Action Analysis framework and would just require a standard way of leaving another type of date stamp on a project (perhaps as a tag).
OmniFocus lets you organize your projects in a folder structure and also allows for sub-contexts. You can choose to limit your "focus" on a folder or sub-folder of activity or on a context.
OmniFocus has a very rapid "Search" feature that gets you to tasks and projects quickly.
You can easily convert tasks to projects or move tasks to a new project. Reorganizing contexts and folders is also easy.
Its repeating task capabilities are fairly good. Its not quite as advances as Mark Task Complete, but is more than adequate.
The program and data are native to the IPad. It doesn't suffer from web delays and does not require an internet connection.
As a stand-alone fully capable GTD application, $39.95 is not a bad deal.
The functionality seems "just right" for the task. I am not familiar with the desktop version of OmniFocus, but I get the sense that the developers have slimmed down from its (perhaps bloating and complex?) function set down to the key features.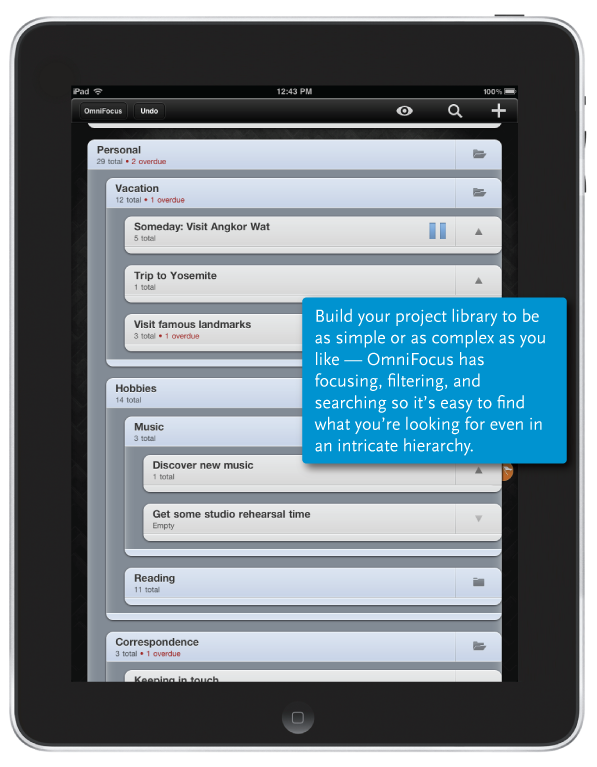 The Cons
If veteran OmniFocus users find any of these observations off-track, let me know, I may not fully understand the capabilities at this stage.
If you are not a Mac user, your data is relatively stranded and not backed up. It it synced to itunes when you sync your Ipad, but you don't necessarily do that very often, and doesn't provide that much peace of mind when you do. If you misplace your Ipad you need to buy a new one to get at your lists?
It doesn't highlight "Projects needing next steps" like ResultsManager does, although timed periodic project review helps catch those.
It doesn't highlight "aging" tasks like Next Action Analysis.
While you can email individual tasks, you can't export or print a full to do list.
It doesn't provide the month-based archiving of completed tasks that Mark Task Complete provides.
Its not a team-oriented tool.
Typing speed is slow and there is no MindReader to facilitate mark up.
Its ability to prioritize is limited to whether something is flagged or not.
It doesn't include a time-required field
Attaching information to a task or project isn't that easy. You can send web links from Safari to OminFocus.
Its not web-based, so you have to keep your ipad handy (e.g. carry it to work rather than pull up web app at lunch).
The first four items were somewhat concerning to me, particularly the stranding of data and potential disaster recovery issues (I don't need involuntary GTD bankruptcy at this point). After a bit of googling, I discovered that OmniFocus uses xml as its native data storage format, which liberates the data in an albeit cryptic organization. MindManager can actually open xml files, which allows the content to be processed with macros. I used this approach several years ago to develop import routines for BaseCamp and (non defunct?) nactionr.
I found I was able to take a similar approach with the main contents.xml file that stores the OmniFocus information. Getting access to the data is a little involved if you are a PC user. I needed to set up a webdav folder with DreamHost to sync the data with. This wasn't a big deal since I'm already set up with them for the blog. Disclamer — referral fee goes to AO charity if you sign up via that link. Setting up the extra sync destination made sense in any case as a secondary backup/restore strategy. If you are a mac user of the desktop application, you can probably get the contents.xml file directly.
The first version of the Omni2Map addin is now available for download (version 9 only). It will export your OmniFocus data into a MindManager map and mark up your projects and tasks with due dates, contexts, etc. It uses ResultsManager conventions, which enables the exported information to be processed with ResultsManager and Next Action Analysis on a periodic basis. I've only used it a few times, but it addresses concerns 1-4 for me now (and likely #5 as well once I unfilter completed tasks).
This is an early version that is sure to have bugs and usability issues and needs a blog post of its own, but I figured I'd share it now for those that are interested in giving it a try.